The best cheap small 4×4 on sale currently, isn't available to us in the United States. There's a huge demand for it and the automakers in the U.S just aren't getting it.
Sure the Jeep Wrangler Rubicon is amazing and the upcoming Ford Bronco Badlands will be even more so, but have you seen the prices?
To understand what we're missing and why we need it, take a look at the international best-selling small 4×4 the Suzuki Jimny.
Table of Contents
Best Small 4×4 Off Road Vehicle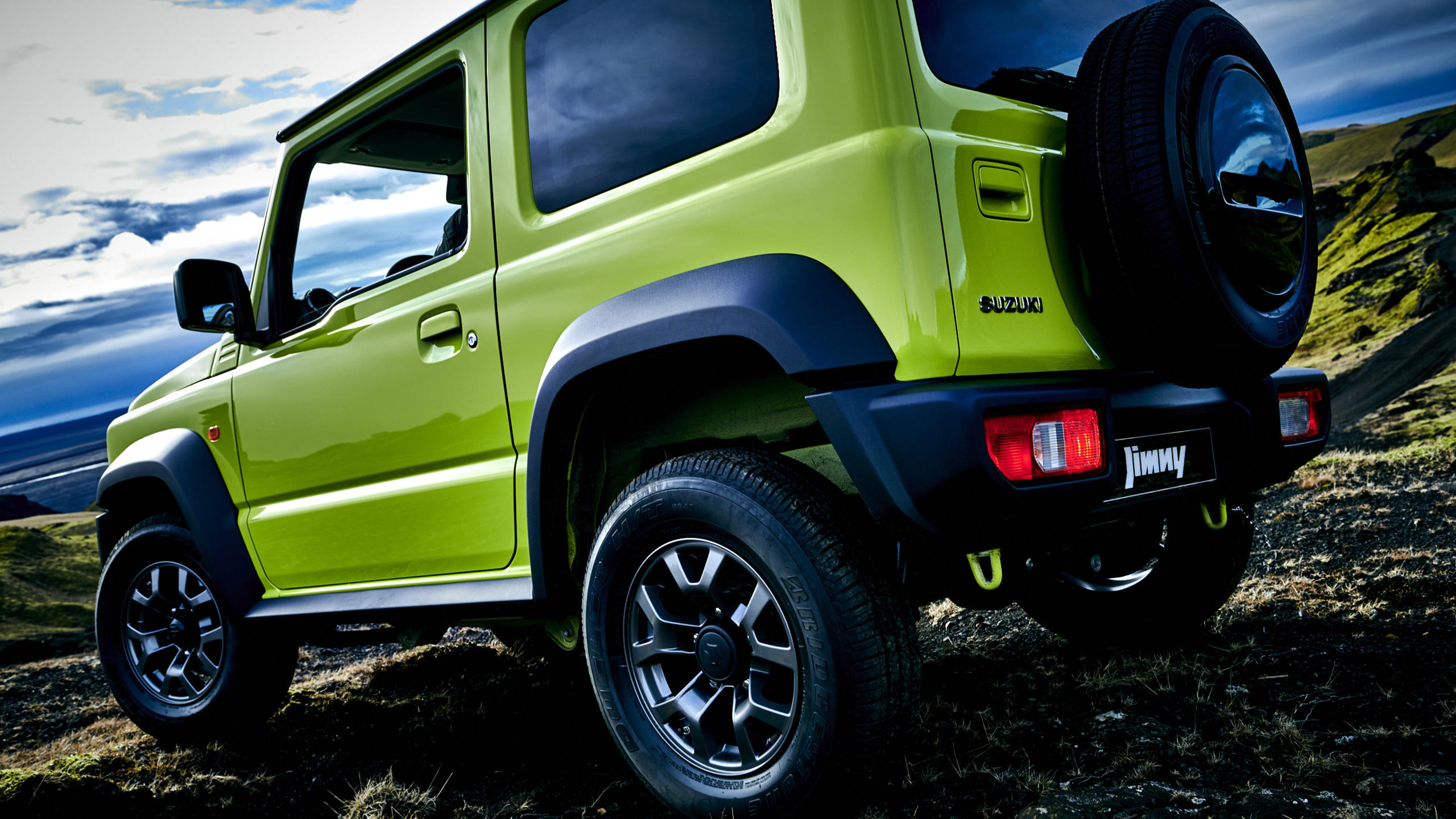 The Suzuki Jimny is THE best cheap small 4×4 right now. It's a small, body-on ladder-frame SUV, with a boxy square appearance and robust off-road specs. It's also, unfortunately, not available in the United States.
Funny enough, it used to be sold in America from the mid-1980s to the mid-1990s under the name Suzuki Samurai and a slightly larger version with the name Suzuki Sidekick. Poor Sales and Image killed it off. Check out this great article on the history of the Samurai by Zuki Off road.
It features Solid Axles front and rear with coil springs, which makes it great for climbing over rocky terrain. In tougher situations, you can shift into low gear with its selectable 4WD transfer case.
Although it only has a 1.5-liter engine with 100 hp it has enough power to get you going. The small engine is one of its highlights, its perky and cute appearance is accentuated by it. It's also one of the reasons this car is so cheap; under $20k.
Although it doesn't have a true locking rear differential or LSD like the most hardcore, it does have brake torquing LSD.
In essence, it uses the brakes to grab the wheel when it senses slip and sends power to the wheels with grip. Not the best, but it'll get the job done. Car Throttle has a great breakdown of different kinds of Limited Slip differentials if you're interested in learning more about them.
And then there's the size. Compared to a standard two-door Wrangler this thing is downright tiny. It's almost 24" shorter in length and almost 10" in width. The Jimny has similar ground clearance as well at about 8.5" to the Wrangler's 9.5" or so.
The Jimny is also lighter too. Almost 1500 pounds lighter than the Wrangler! So that power difference wouldn't be that noticeable.
Now don't get me wrong the Jimny and wrangler aren't apples to apples. The jeep comes with more standard features and is a lot more refined. These comparisons just show how good a cheap small 4×4 can be.
What Makes A Cheap Small 4×4 Appealing
The appeal of the Jimny is that it takes a different approach to offroading. If Jeep Wrangler and Ford Bronco can beat the land into submission, then the Jimny is a mountain billy goat scampering over it.
The real attraction of the cheap small 4×4 is that it relieves you of undue stress. When things are affordable you don't have to worry as much about them.
Not to say you don't care about them, just that they won't leave you tossing and turning if you get a dent or scratch in the paint. When buying a vehicle for the purpose of taking it outdoors, that's a huge plus.
Being affordable generally means a small vehicle. Less mass means less material, less material means less cost.
For offroading that's great because one it costs less, two it's smaller so it can get into and out of tighter spots which are perfect for offroading, and three less weight equals to a lighter footprint meaning less cost and better off-road ability. A Win-Win-Win.
Think about how much camping and Overlanding gear you could buy with the leftover cash. Not to mention tires, lighting, winches, and all the other stuff you eventually need when you go off-roading seriously. Having a cheap base vehicle really helps.
Why You Need A Cheap Off-Roader
It's hard to justify spending $35-$40k on what's essentially a hobby car. Sure you can try and use them as a daily driver but let's be honest it's not ideal.
Hardcore offroaders are designed to be just that, good off-road. Using them on the road can work but the experience will be at best compromised.
So in comes, the flurry of soft-roaders, cars with the appearance of hardcore go-anywhere ability but the road manners of a commuter car. Best of Both worlds right? Well maybe, but probably not.
So there are no cheap small 4x4s available anymore. What can we do? Look at the used market, right?
Well undoubtedly I would say yes but in our current used car climate (summer 2021) it's kind of slim Pickens. While you can find a deal they're far from plentiful.
High mileage Toyota's and Jeep's are selling for double what they would normally because of the demand for off-road vehicles and limited supply.
If you can wait it out till the supply comes back up you'll get something much better for the same amount of money. Better to sit on your hands and wait.
If you can't wait and need to get into a vehicle right now, have a budget in mind and stick to it by all means. If you're considering four-wheeling as a hobby know that you'll probably need to buy equipment for your car to prep it off-road.
Tires, lights, suspension, and camping gear are all extras in this 4×4 game. I suggest researching the vehicle you want to buy or narrowing it down to about 2. Then research and price out how much the gear you need costs.
You don't need to price out every knife and fork, just the major vehicle-related things. So for example, off-road tires (if your vehicle doesn't have them) and/or wheels if required, a suspension lift kit to fit said tires if required, and some type of off-road lighting.
These are the bare-bones essentials and depending on your situation could be more or less than required. Just know what you want to spend, minus your gear, and now you have your budget for your vehicle.
Check out this guide on the best time of the year to buy a vehicle from a dealership.
Ok so I know you're waiting on my cheap off-roader recommendation, it's the WJ Jeep Grand Cherokee. You can read why it's such a great 4×4 for the money here.
It's sort of an unkept gem at the moment, but I don't think that will last long as people are looking for alternatives to the established vehicles in this segment.
In Sum
The purpose of telling you about the Suzuki Jimny is to remind you of the power the consumer has. If we voice our opinions loud enough the manufacturers have to listen.
We need to express how we want a cheap small 4×4 with no frills that doesn't need to be a luxury cruiser by day and desert stormer by night.
We want something that goes anywhere and does anything reasonably, affordably, and when we want to. There are plenty of cheap commuter cars out there to plug up the highways.
Make your opinion heard and we might just get our affordable hobby cars one these days. The sort of cars the Automotivist cares about. Cheap, cheerful, and delightful.
(Visited 137 times, 1 visits today)